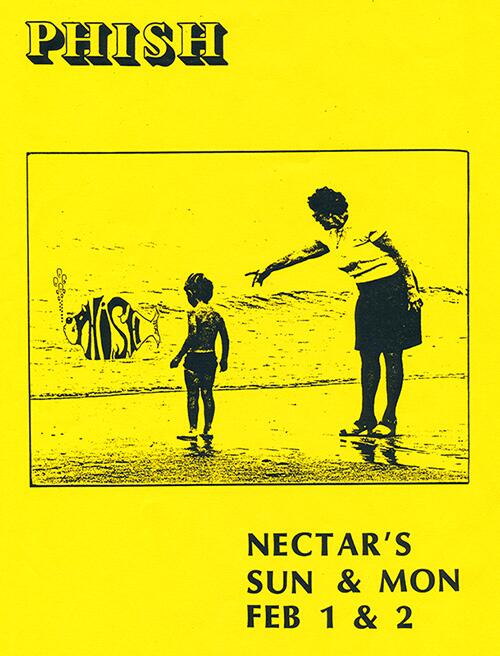 Set 1: She Caught the Katy and Left Me a Mule to Ride, Alumni Blues > Letter to Jimmy Page > Alumni Blues, Golgi Apparatus, Swing Low, Sweet Chariot, Fire, Skin It Back ->Cities, Lushington
Set 2: Dog Log, Melt the Guns -> Dave's Energy Guide, Take the 'A' Train[1], Halley's Comet > Quinn the Eskimo > AC/DC Bag
Set 3: Peaches en Regalia > Fluffhead, Good Times Bad Times, Anarchy, Makisupa Policeman -> Run Like an Antelope, Boogie On Reggae Woman, Timber (Jerry)[2], Slave to the Traffic Light > Sparks > McGrupp and the Watchful Hosemasters > The Ballad of Curtis Loew[2], Come On (Part One)[2], I Am Hydrogen -> Who Do? We Do!
Encore: Fuck Your Face[3]
[1] First known Phish performance; Jeff Friedberg on saxophone.
[2] First known Phish performance.
[3] Debut.
Now, I'm glad if you've been following since day one that hopefully you've listened to every show or at least the highlights as well. I've got some bad news though and it's not that your cat died. Poster Nutbag hasn't even been born yet! It's that I could have saved you all a lot of time. ut you would have missed the sublimeness that was "Prep School Hippie"! One of the tent poles of the short range of 1987 shows, this night has a lot of highlights. B Heck! We even get three full sets! There's a lot of music to get through so let's dive right in.
The night begins with a nice standard "She Caught The Katy". Good song to warm-up to and get the crowd interested. We then go into "Alumni Blues>Jimmy Page>Alumni". Earlier, it would have been played as a standard blues but we're starting to get that trademark groove. Someone out there may be able to better describe it but it has a certain feeling that makes it more danceable than standard blues. There's a certain looseness, I think it's Fish's drumming that gives it an odd shuffle. It's very white boy Meters feel. Also, instead if Trey wailing through it all, we get a very nice Page Rhodes solo about 4 minutes in. The end of the song also feels more like 4 musicians working together. The next song is introduced as "Duke Ellington's favorite song" as told in his memoirs and relayed by Trey. It turns out it's "Golgi Appartus" despite it debuting 12 years after his death. This "Golgi" is much improved with more movement from the band during the middle section and some much needed patience infused into the delicate melody. The buildup to the release also is well played. "Swing Low Sweet Chariot" comes next providing a cool vibe. Page also gets to take a solo which is much appreciated. Trey gets to noodle away next as "Fire" comes up and the band powers through it, infusing the set with wild energy. The dance vibe comes back though as the band grooves into "Skin It Back". The song's a little weak compared to other tracks but the end jam gets in there are Mike's bass weaves around Trey's guitar while Page holds down the groove on the Rhodes. The song segues weakly into "Cities", showing that they still have work to do. I wonder if they listened back and analyzed how much stronger that could be. Obviously this was way before all their self-imposed rules so it's possible. "Cities" also fizzles out a bit and goes nowhere fast. Set One closes with "Lushington". '87 will be the year of "Lushington" so you'll hear a lot of it if you follow along. This version cooks at a nice clip and has fine keys work from Page. It's a solid version.
Set 2 opens with "Dog Log". This version has the jazz influences seeping more and more, making it feel more syncopated and loose. The band takes "it around one more time" and all 4 have at the rhythm, sounding together and disjointed at the same time gloriously. Fishman hits the cymbals and it sounds like "David Bowie" might be coming, even the rest of the band plays a funky jam over the top of it but Trey and Page hit the melody for "Melt The Guns". It starts out pretty standard but at 3:30, we get into the jam and it's a beauty. Trey plays a gorgeous soaring lead over a darker, dissonant piano part from Page. Mike even gets into it with a throbbing bass line. The last minute really ups the intensity and shows off the musicianship of all 4 members. The song also features a very strong segue into "Dave's Energy Guide". Less rough than pervious versions, they don't actually hit the main theme until about a minute in, enjoying the groove until Trey finally starts the diamond pattern. Rather than disconnecting lines, the band hits the rhythm hard and hooks up quite well. At times, it even sounds like "On The Run" by Pink Floyd. It's less noise and more actual music. The whole segment is definitely worth a listen. Once again, it's Duke Ellingston's birthday. So the band decides to play an actual Ellington tune, "Take the A Train" with guest Jeff Friedberg on saxophone. It's a fun listen to hear Phish with horns well before the Giant Country Horn days. "Halley's Comet" comes next and it's fun but nothing outstanding. It does have a smooth segue into "Quinn the Eskimo", which sounds good but is not too exciting. The tape then has a crossfade and we miss the cool intro but we go into "AC/DC Bag" to close the set.
The third set is the most exciting in my mind. It opens with a great intro from Trey reminding people to tip their waitresses and waiters and then Fish hits the drum intro to "Peaches en Regalia", which is standard but rips nonetheless. "Fluffhead" comes next and it's played at a fast and furious pace. The train is gathering steam and it's headed down the right track. Can't wait to see where it goes from here, especially with the Fluff's Travels development. Keeping the crowd in it, the band rips into "Good Times Bad Times" and it ably shows Trey's quick finger fretwork. The short punk basher "Anarchy" follows and they slam through it and one fan even yells "One more time!" and on cue they do it again. Taking it down a notch, the band fires up "Makisupa". About 2 minutes in, Trey solos over Page's chords and it's interesting to hear him take the song for a walk. It rolls into "Run Like An Antelope" nicely with the band starting slow and increasing to normal tempo. The ability to maintain a groove while executing tension and release is on full display here and it makes Antelope quote amazing for how early it is in the band's career. Getting the crowd back to dancing, "Boogie On Reggae Woman" comes next. The band tired hard to jam it out but it really doesn't develop. The night's 2nd new cover, "Timber (Jerry)". Now, the interesting thing is only Phish would think about taking an old folk song from the 1930s and making it fresh with a new wave guitar part over the rhythm. Listening to it played by the son of one of its authors, Josh White, Jr., it really is a dramatic overhaul and makes it a lively tune to dance to. This first version is a must listen. It's high energy with great soloing from Trey and an amazing beat pounded out by Fishman. "Slave to the Traffic Light" is a good choice for a breather. It's played impeccably well. It still doesn't the peak but instead of Trey's noodling incessantly, He just pounds out the chords to build to release and Mike hits a great melodic bass line to close it. The set probably could have ended there but it's not last call yet. Trey hits the guitar chords to "Sparks" and the band goes into it. Fishman hits the drum fills quote well here. "McGrupp and the Watchful Hosemasters" comes next and retains its spoken lyrics. Luckily with less Bob Dylan style vocals and more just atonal shouting. Besides that it's pretty standard. We then get the third new cover, "The Ballad of Curtis Lowe" by Lynyrd Skynyrd. This first version is interesting because Trey sings some of the verses where as modern day versions have Page singing all the verses himself. Trey continues his mastery of the southern rock style of guitar playing. Next, we get the last cover in "Come On (Part One)". The song is base on the Earl King R&B hit but the version here is clearly based on Jimi Hendrix's rendition from Electric Ladyland. This is the only known performance of the song by Phish. Trey would later play it with the 8 Foot Fluorescent Tubes and his solo band in 1999 a few times. The song mostly features Trey's uncanny ability to mirror Hendrix in his own style. However, the rest of the band also moves at the quick pace with strong support from Page, a hot bass line from Mike, and flashy drums from Fishman. It's a shame they didn't take this one for a walk more. The evening winds down with "I Am Hydrogen>Who Do? We Do!" "Hydrogren" us fun because it's played at a faster tempo than usual but is no less beautiful. "Who Do? We Do" is broken up on my copy of this show, which is interesting. It ends abruptly, ending the recording. Apparently "Fuck Your Face" made its debut as the encore but did not make the recording. A fine 3-set affair from Nectar's in the books!